Gabelhubwagen Transportwagen Schwerlast-Hubroller Palettenfahrgestelle Scherenhubtische Transportgeräte ALU Hubkarre Behälterneiger Montagelifter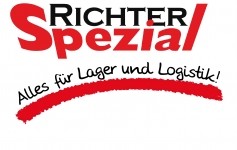 About Richter Spezial
 As a German company, we have been supplying our products "transport equipment and scales" primarily to customers in the German-speaking world for more than ten years.

For several years we have also been serving customers worldwide, including packaging for shipping and organisation of the logistics.

We therefore welcome the interest of international customers in our products, and look forward to your inquiries.

Naturally we also speak English and will be pleased to accept your phone calls and respond to your emails in English, in order to answer all your questions, or to work out a quotation according to your specifications.

We manufacture custom-made solutions even for an order of a single item.

Due to our current primary orientation toward Germany, Austria and Switzerland, we have not yet translated descriptions of the more than 1,000 products in our shop, since we wish to keep costs reasonable for our customers.

Please simply ask us what you would like to know. We will be glad to communicate with you in English, by telephone or email.
Information how to contact us:
Web:
Onlineshop:
Mail:
Phone:
02351/672015
Fax:
02351/672025
Postal address:
Richter Spezialz. hp Mr. Thilo RichterJahnstraße 30
58509 Lüdenscheid
Germany • Nordrhein-Westfalen • Märkischer Kreis
Product- / search words:
gabelhubwagen kunststoffhubwagen Windenkarren Alu-Hubkarren Aluhubkarre Montagelifter Behälterneiger iton i-ton routenzug routenzug-modul routenzuganhänger schwerlasttransportwagen Transportgeräte wiegehubwagen palettenfahrgestell schwerlast hubroller transportwagen magazinwagen etagenwagen transportfahrwerk maschinenheber plattenwagen gerätekarre fasskarre fasshandling reifenhandling transportroller kistenkarre gerätekarre materialheber flaschenkarre flaschenroller industriewaagen bodenwaage palettenwaage gasflaschenwaage tischwaagen scherenhubwagen scherenhubtische waagehubwagen sackkarren regale kragarmregale lagerregale palettenregale universalregale weitspannregale ordnerregale grossfachregale Deichselstapler paketroller hubroller hubkarren Aluminiumhubkarren Behälterneiger Behaelterneiger gabelhubwagenmaschinenheber materialheber reifenheber treppenkarren transportkarren Rungenwagen Schiebebügelwagen Stirnwandwagen Industrieanhänger Edelstahlkarren Magazinwagen GitterwagenFlaschenroller kippbehälter muldenkipper Paketwagen Eurokastenwagen GitterregalwagenWerkstückwagen Transportwagen Anfahrhilfe Fahrantrieb Elektromodul Elektroantrieb Ergonomie Plattformwagen elektrisch Elektrofahrantrieb elektro fahrantriebSchiebebügelwagenBürowagenDrahtkastenwagenHolzkastenwagen Geländehubwagen PalettenfahrgestelleBlechkastenwagen Griffroller Edelstahlgeräte Edelstahlkarren Montagelifter Alu-hubkarren muldenkipper Schiebebügelwagen Maschinenwaage autarkes wiegen solas containerverwiegung solas-regelung solasübereinkommen waage balkenwaage kompaktwaage wiegewaage bodenwaage seecontainerwaage elektrische treppensteiger
Entry change:
Click here do modify the entry