Pension Melanie - Neamt , Pensiuni Neamt, Pensiunea Melania Neamt, Pensiune Neamt, Cazare, Piscina, Biliard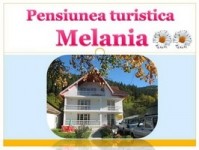 About Pensiunea Melania
Pension tourist Melanie is situated on the route Piatra Neamt-Bicaz, the valley town of Bistrita in Vaduri. Tourist attractions such as monasteries Pangarati, Bistrita, Bicaz Chei, Red Lake, are located nearby.
Sightseeing in the area of the Tg. Neamt can be viewed in trips available daily.
Located at the edge of the forest will provide accommodation for 5 bedrooms, a recreation room with pool table, large spaces for spending time inside, terrace and swimming pool outdoor.
As hosts we will offe ...
Information how to contact us:
Web:
www.PensiuneaMelania.blogspot.com
(At present those is not attainable homepage)
Mail:
Phone:
+4.0722626859
Postal address:
Pensiunea Melaniaz. hp Ms. MelaniaAlexandru Cel Bun nr 165, Locality Vaduri
617512 Piatra Neamt
Romania
Product- / search words:
New hostel located at mountain - heating fireplace small bar
Entry change:
Click here do modify the entry